3 steps to creating an annual plan for your business
Steven Covey famously said that when humans create, they do so 3 times.
First, we create in our imagination
Next, we create a representation, like a blueprint or map (AKA, the plan)
Finally, we manifest and make it happen for real

The upcoming quiet time between Christmas and the New Year is the ideal time to "have a think" about your business.
It's a great opportunity to imagine and plan so that you're ready to hit the ground running come January.
This article outlines the 3-step planning practice I facilitate with my clients.
It requires 2 disciplines: carving out the uninterrupted time to think – and writing it down!
The writing it down part is critical: you can't execute on a plan that's still bouncing around inside your head.
I often tell my clients: "If you're not writing, you're not thinking!"
So block off some time on your calendar, then grab a pen and a notebook and do the following.
Step #1 – Conduct an Annual Review
An annual review will give you an opportunity to step back and gain a larger perspective on your business so that you have the key insights you need to make a solid plan for next year.
Take some time to reflect on your business and ask yourself some questions on these themes:
What did I achieve last year – both professionally and personally?
What obstacles and challenges am I facing?
Where do I need to work on myself personally?
You can get the exact questions I use with my coaching clients here: Annual Review Questions
When you review both what went well – and what didn't go well – you can apply what you've learned in the past to create greater success in the future.
Step #2 – Set Specific Goals
Start by listing ALL of the goals you might potentially want to accomplish.
Look at your review question answers for ideas.
Consider personal goals and business goals.
Dream a little. What do you want to create for yourself?
Make a long list. I recommend brainstorming AT LEAST 25 goals.
Once you have your 25 (or more) goals, choose no more than FIVE that you will focus on this coming year.
Then take Warren Buffett's advice and make the remaining goals your "what NOT to do" list.
For more insight into why this works so well, I recommend you read this article by James Clear: Warren Buffett's 2 list strategy
Step #3 – Create Plans to Achieve Your Goals

You'll need 3 specific plans to reach your goals.
1. A revenue and profit plan
This plan details how much money you intend to make each month, what your expenses will be, and how much of a profit margin you will have.
With this plan in place, you can then track your actual results month-to-month so you'll know whether or not you're on track to reach the goals you set for yourself.
2. A sales and marketing plan
This plan outlines what you'll need to DO in order to bring in that money. What are the sales and marketing activities you'll need to undertake?
Like the revenue and profit plan, it also specifies numbers to track in terms of leads and conversions to sales.
3. An organizational plan
This plan documents the team members you'll need to execute your plans.
What are the positions you'll need to fill? Do you have systems in place for recruiting, hiring, and training?
Remember: the people who achieve their dreams don't do so simply because they had a good plan.
As former president Eisenhower famously said, "Plans are useless, but planning is indispensable."
Or as Mike Tyson put it, "Everybody has a plan until they get punched in the mouth."
Everyone requires a solid plan, but the real value lies in being able to adapt, stay light on your feet, and roll with the punches, so to speak.
Successful business owners commit themselves fully to the goals they have set.
They maintain a clear vision of what they want, and they work hard to make it happen.
Tell yourself that it's not a matter of if, but when and how.
I would encourage you to say something like this:
"The only thing left to negotiate is how much effort reaching my goal will take. But the fact that I am getting what I want is not up for discussion. It's not up for debate. With the right planning, my success is inevitable."
Of course, such deep commitment isn't easy.
The plan will change. The process will evolve. It can be tempting to desperately hang onto an original plan – even one that's failing – if you aren't sure what next step to take.
That's where a professional business coach can really help!
If you'd like to reach your goals faster next year, I invite you to book a free 15-minute consultation call to discuss business coaching.
Free E-Book: Five Steps to Freedom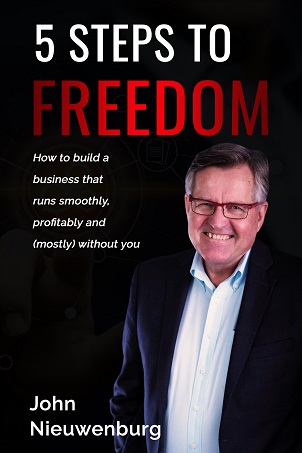 How to build a business that runs smoothly,

profitably

, and (mostly) without you
Feeling stressed out and overwhelmed with a business that is taking all your time - and not giving you enough in return?
Are you finding it challenging to hire the right team (and get them to do the right things)?
I wrote this little guide for you!
Enter your details below to receive your free copy!