A little about Coach John Nieuwenburg
You're here because you probably want to know a bit about ME and what it might be like to work with me.
First off, I don't really like to talk about myself.
Your investment in coaching is so that we can focus on YOU.
I won't spend our time talking about myself. That is the first thing I believe about coaching
I won't tell you what you "should" do.
It's your business and you get to decide what to do. I'll provide feedback, perspective and ask questions to help you explore your options. I follow the "Socratic method" of teaching – asking instead of telling. The principle underlying the Socratic Method is that people learn through the use of critical thinking, reasoning, and logic, finding holes in their own theories and then patching them up. My role as a coach is to help you figure out the answer that is right for YOU. Since it is your answer and not mine you are much more likely to embrace and act on those ideas.  And when you do, you'll get results!
COACHING IS AN INVESTMENT.
Investment presumes that there will be a return. Otherwise, it's just an expense. There are coaches that charge $30,000 or even $100,000 for a year of coaching. I don't believe you need to pay 30 grand in order to get started with coaching. If we are a good fit we will find a program at an investment level that is right for you. Coaching will pay off over the long term. Assuming we are a good fit, my guarantee is that after 17 weeks of coaching, you will have paid for your investment with new business.
COACHING IS A MUTUAL COMMITMENT.
I won't work with anyone who isn't actively working on their business and therefore getting a return on their coaching investment. It's a waste of time and money for both of us. I'm just as invested in the relationship as you are. My reputation is based on happy clients and positive results. Poor results represent a significant risk to my brand. That means if coaching is going to work, we BOTH have to work! After all, when my reputation grows it is because there are satisfied clients who have enjoyed results!
I BELIEVE IN "TEACHING A MAN TO FISH."
This is the primary difference between coaching and consulting. Consultants provide solutions based on their expertise, often leaving their clients reliant on them. (Here's a fish.) As your coach, I will teach you what you need to know so that you will know what to do the next time. (Here's how you fish.)
"Give a man a fish and you feed him for a day; teach a man to fish and you feed him for a lifetime." The origin of this quote is debatable.  Many people think it comes from the Bible, others say it is a Chinese proverb. Brainy Quotes attributes the quote to the Jewish cleric Maimonides
SELLING CAN BE A SERVICE TO SOCIETY
Many of my clients struggle in business because they associate sales with "Herb Tarlick" or the pushy used car dealer. The truth is, we are all sales people. (Ever try to get a 3 year old to do anything? Or ask someone out on a date? That's sales!)
I've been studying selling as an art since the '70s – and I've learned that you can use the exact same techniques to be either manipulative or helpful. It all depends on who you intend to serve: yourself or your client.
I HAVE A CODE OF CONDUCT
Professionals in every field have a code of conduct.  Here is mine:
WHAT MAKES YOU QUALIFIED TO BE A COACH?
Unfortunately, the coaching industry is unregulated and these days "everyone is a coach."
Although I was trained and certified by an international certification body, I don't believe that certification is the best way to determine the quality of a coach. Results are.
I've worked with more than 200 clients over the past 13 years. Many of their stories appear on my testimonials page and on my LinkedIn profile. I invite you to call any one of them and ask about their experiences.
WHAT DID YOU DO BEFORE YOU STARTED COACHING?
In about 2004 just after I started my coaching practice, I had an epiphany. I was born to coach. I've been coaching all my life. Until that moment I hadn't been able to label it. Now I had crystal clear insight. I now understood what Steve Jobs meant in this quote: That only after you're there, can you then connect the dots. "You can't connect the dots looking forward; you can only connect them looking backwards. So you have to trust that the dots will somehow connect in your future. You have to trust in something — your gut, destiny, life, karma, whatever."
As the oldest of 8 children, I used to ride my bicycle to the library every 2 weeks to get books for my siblings. I would carefully select 3 books for each of my brothers and sisters based on their age and interests.
Before I started my own business as a coach/retail consultant in 1997, I held executive positions with Tip Top Tailors and BC Liquor Stores.
My titles read Area Director and General Manager – yet much of my work boiled down to business coaching. I worked with individual store managers to help improve business performance. Although each store operated under the umbrella of a larger organization, they were in actual fact individual small businesses. A good store manager would act as the "owner" of that store and take responsibility for their results.
DO YOU HAVE A LIFE OUTSIDE OF WORK?
Yes!  (And after working with me, you will too. I believe in putting your business on life support…because if your business isn't supporting your life, what is it supporting?)
When I'm not coaching, I enjoy:
Drinking wine (you'll have to ask me about this one!)
Golfing, skiing and running
Hanging out with my fiancée, Jennifer
Reading (I've read over 500 books!)
I also love to travel. Here's a fun slide show I put together that combines my travel adventures with Dr. Seuss.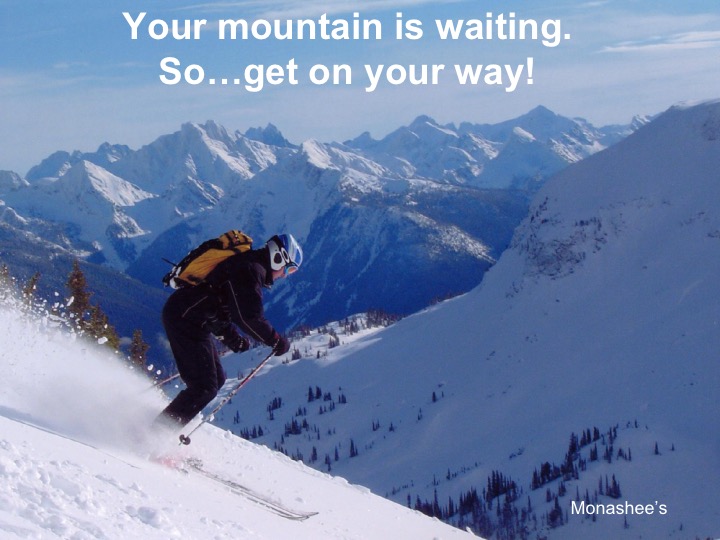 AND ONE FINAL THING…
One of my clients advised me to tell you that I'm not nearly as cranky as I might sound on this About page…
I'm actually very approachable, easy to talk to and enjoyable to work with.
Find out for yourself! If you think we're a good fit, call me at 604.687.5542 and we can determine if coaching with me is right for you.
And in case you are wondering if it's a good idea to connect with me, consider another quote from Maimonides. "The risk of a wrong decision is preferable to the terror of indecision."
I was not looking for a business coach, I just happened to hear about you from a person that I was in contact with.  I sent you a quick mail; in retrospect, it was one of the best emails I have ever sent; it was a very short and simple email that led to a…
Read More
When business is down, it might seem inappropriate to consider increasing expenditures by hiring a coach. Here are 3 ways to tell if you truly need a coach.
Read More