Articles to help you become a better business owner
Too much to do...and not enough time to get it all done? Click the button below to access all my best advice on taming your schedule and making the best use of your time.
Being successful in any endeavour comes down to mindset. Click the button below to access all my best performing tips and tricks to seize control of your mindset.
Behind every great business owner is a great team. Click the button below to get my best advice to attract, train, and keep quality team members.
When you're running a business, you need to pay attention to money. Click the button below for some no-nonsense advice on business finances and sales.
Free E-Book: Five Steps to Freedom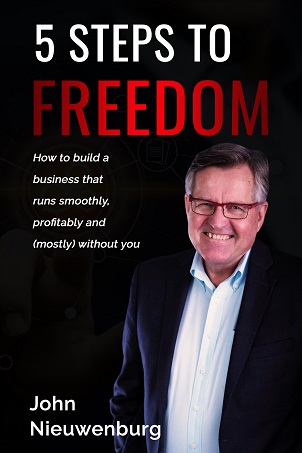 How to build a business that runs smoothly,

profitably

, and (mostly) without you
Feeling stressed out and overwhelmed with a business that is taking all your time - and not giving you enough in return?
Are you finding it challenging to hire the right team (and get them to do the right things)?
I wrote this little guide for you!
Enter your details below to receive your free copy!