4 Guaranteed Ways to Grow Sales in Your Business
Every business owner needs a good sales strategy.
There are hundreds of tactics and methods people use to grow sales, each with their own pros and cons.
It can all be very confusing.
Luckily, you really only need to know 4 basic strategies. These are:
Get more customers: in current or new markets
Get customers to spend more: increase average transaction
Get customers to buy more often: increase frequency
Get customers to stay longer: customer retention
Choose the right strategy and watch your numbers skyrocket
To see a change in your sales results, it's important to choose the most appropriate strategy (or mix of strategies).
As you read through the list below, ask yourself which applies to your business best.
Which of the 4 strategies is right for you?
1.  Get More Customers
This is the most obvious and common approach when it comes to growing sales.
However, there are two dimensions to "get more customers."
The first is to improve your conversion and rate and the second is to get more prospects.
Lead generation can be expensive, both in terms of time and money.
That's why I suggest optimizing your conversion rate first.
Focus on converting current prospects into customers through having a repeatable sales process.
You may not have to do any new marketing at all if you can successfully turn lukewarm leads into paying customers.
2. Get Customers to Spend More
Often overlooked, this is one of the easiest ways to grow revenue.
Do you know how McDonalds grew their profits by $35 million? I bet you do! It is a six-word script.
"Would you like fries with that?"
This tactic is genius. A simple add-on suddenly ups how much customers spend on each transaction.
This can be accomplished by raising prices, promoting premium products, upselling or cross-selling complimentary products or services (like delicious French fries) as well as by expanding payment options you accept or offering plans.
Just think. If you could increase every transaction by 5%, what would that mean for your business?
3. Get Customers to Buy More Often
Creating a "revolving door" is one of the best ways to grow sales.
Instead of having customers buy once, you want them to purchase again and again. This keeps cash flowing in.
To give customers a reason to come back, your business needs to stay connected.
For example, you could:
Maintain a customer database and use it to promote offers via mail, email, or text
Start a monthly continuity program
Write a newsletter
Develop a fanbase on Facebook, Twitter, Instagram, etc.
Promote special offer for followers
Offer a lead magnet "freebie" to new subscribers
All these tactics encourage customers to keep in touch, and thus make them more likely to buy from you a second, fifth, or even twentieth time!
4. Get Customers to Stay Longer
The opposite of keeping customers is losing customers.
Statistics show that it costs businesses 6-7 times more to recruit a new customer than to keep an old one.
How do we avoid that hefty price tag? By building brand loyalty.
Here are a few techniques to consider:
Deliver what you promise – and them some!
Offer a thank you or bonus gift with a first purchase
Send birthday and holidays cards
Call to follow up after a purchase or job completion
Ask for testimonials
Recognize customers in newsletters
Respond positively to comments on social media
Give 'free' information or advice
Determine your customer's need. Then act on it!
Above all, clearly articulate how your business will provide value to your customers.
Remember, people naturally have a "what's in it for me?" attitude.
Find a problem and use the 4 strategies outlined above to show how you – and nobody else – can solve it.
Before long, you'll see a jump in sales!
Would you like some help with your sales skills and strategy?
Business coaching is the fastest way to get results.
I've helped many owners increase their sales and revenue by implementing these strategies – in some cases, by as much as 10x.
To explore if business coaching is a good fit for you – book a complimentary 15-minute consultation call today: Book 15 minutes with John.
Free E-Book: Five Steps to Freedom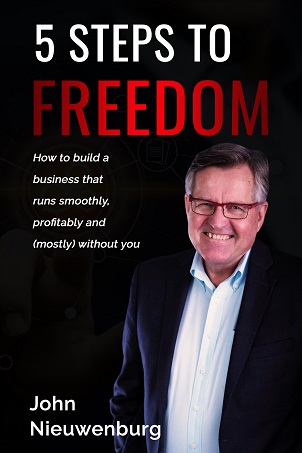 How to build a business that runs smoothly,

profitably

, and (mostly) without you
Feeling stressed out and overwhelmed with a business that is taking all your time - and not giving you enough in return?
Are you finding it challenging to hire the right team (and get them to do the right things)?
I wrote this little guide for you!
Enter your details below to receive your free copy!