Is a cash crunch keeping you up at night?
Nothing strikes fear into the hearts of entrepreneurs like a cash crunch.
The symptoms are all the same. Insomnia. Nightmares. Cold sweats. A quickening pulse that leaves you tossing and turning in the bed.
It's not a pleasant feeling for anyone.
Especially not a business owner.
If a cash crunch is keeping you up at night, rest assured there are ways to get your finances under control.
Ready to find out how?
The 5 most common causes of cash flow challenges
The truth of the matter is that as business owners, almost all of us have experienced a time when we have had a cash crunch. This might have resulted in a struggle to pay off bills, get a bank loan, or even make payroll.
While an employee doesn't necessarily have to worry too much about a cash crunch, as the CEO of the business you own, it's your head (and wallet) on the chopping block when the funds dry up.
There is a common saying in the business world.
Have you heard it?
"Revenue is vanity. Profit is sanity. Cash is king."
What that means is this; while sales are the lifeblood of a business, it is 100% possible to have profitably in your company yet still be running out of cash. Usually, this so-called "cash crunch" occurs for one of the following reasons:
Poor accounts receivable collections
For example: clients not paying on time or bills taking a long time to process, thus clogging up your money 
Not pricing your offering high enough or with inadequate gross margin
For example: trying to compete with overseas competitors by charging too low of fees
Miscalculating or not forecasting expenses
For example: inaccurately predicting future costs
Overall sales are just too low to cover overheads
For example: a lack of interest in what your business is selling or not being in tune with your current marketplace  
The business is growing so fast you're outstripping your ability to finance the growth because of the cash gap (the gap between paying for goods/inventory you buy to getting paid for the sales you made to your clients)
For example: financing inventory, payroll, etc. at a rate that's exploding faster than your ability to recover the cash
Best practices (what to do about it) so you can stop worrying and start sleeping better
Now, just because you are feeling the pressure of a cash crunch today, doesn't mean it will last forever.
To improve your cash conversion cycle, here are 6 easy to implement tips.
Use the weekly 13-week cash forecast (to gain near term cash flow visibility and to make payment decisions)
Increase your billing frequency (for instance, from monthly to weekly)
Change your payment terms (so that you can get deposits or milestone payments)
Create a streamlined collections process with weekly monitoring (to act before bills became overdue)
Inventory management (to reduce the number of days of inventory you have on hand)
Clear stale inventory on a scheduled basis
Final Thoughts
If after reading this blog you still feel like there's no light at the end of the tunnel, I invite you to get in touch.
During a 15-minute consultation call, we can discuss how to solve your cash crunch woes.
Free E-Book: Five Steps to Freedom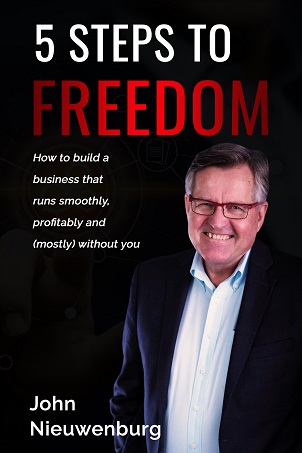 How to build a business that runs smoothly,

profitably

, and (mostly) without you
Feeling stressed out and overwhelmed with a business that is taking all your time - and not giving you enough in return?
Are you finding it challenging to hire the right team (and get them to do the right things)?
I wrote this little guide for you!
Enter your details below to receive your free copy!