Recessions, change and whitewater: what it takes to succeed right now
Lately, I've been frequently referencing a well known Warren Buffett quote:
"Only when the tide goes out, do we discover who's been swimming naked."
But what does it really mean to say this? Let's dive in.
Lots of businesses ride on what I'll term an 'artificial bubble'. So when everything's moving along as usual, the economy is performing, businesses are 'fat and happy' – things are great! In these times it can be very difficult to determine which businesses and which leaders are poised and able to sustain themselves through more challenging times. When we look at this quote, Warren Buffett's 'tide going out' refers to a stress test, which we are all facing this year. Businesses couldn't have predicted that a pandemic would sweep over the globe, shutting doors and practically dragging the economy we were familiar with to a grinding halt. So who is 'swimming naked' so to speak? Businesses who were not prepared to survive such a stress test. The ability to pivot and carve out space for your business to continue throughout this time is proving absolutely key to surviving let alone having any hope of thriving.
How do you ensure that your business survives?
In short, you change your focus. Four months ago business owners were thinking about strategic plans, business plans, long term marketing plans… what the rest of the year was going to look like given that the world was in a relatively stable, buoyant time. Business owners had no real reason to expect that business was going to be anything but good for the remainder of the year. Then came the middle of March, here in North America at least, where business owners had to suddenly shift from focusing on big picture strategies to short term tactics. And the most important tactic is quite simple: to survive. What do you need in order to survive? Cash.
How often do you go about your day thinking about the oxygen that you breathe? Probably not very often, if ever. The same is true for cash. Cash isn't something that many think about on a daily basis until they really need it. Of course, part of being a good business owner is having a handle on your cash flow and knowing what you have to work with, but it's not a constant nagging thought until you don't have enough. And I'm not talking about profitability, as you can have a business that has a fine profit & loss statement, but you may not have cash on hand.
Here are some things to keep in mind when you're trying to become more cash-rich:
How can you send out and collect invoices more efficiently?

Are there any suppliers, partners, or vendors that you can begin to slow pay?

What expenses can you cut? Think about things like staff parties, bonuses, overtime pay, etc.

Before you invest in anything really think about the return on investment that you can expect to get. 
"Necessity is the mother of invention."
We have all heard it before, and it rings true for businesses now more than ever. For a business to survive an economic crisis like the one we are facing today, it needs to be able to find a space into which it can pivot. As a business owner, you need to be innovative in reading the marketplace, assessing what is needed, and finding a way to adapt your business to suit those new needs.
As a business coach, I see this first hand as many of my clients over the last three months have faced serious challenges when it comes to keeping their doors open. Some have been able to make simpler adjustments such as shifting from in-person meetings to now being fully online, while others have had to make major changes to the products and services they offer. For example, I have a client that owns a printing company that pivoted from printing mostly marketing materials for other businesses to now making facemasks for distribution. And you know what? Thanks to a nearly unlimited demand for facemasks and my client being quick to take action, April was their best month EVER. This is a great example of a company doing what they need to do in order to stay afloat.
On the other hand, there are businesses that were already positioned fairly well for the new market demands. Take another client of mine, a CNC machine shop that mainly supplied parts to a business that created transmissions for military vehicles. Well, when that opportunity dried up they were fortunate to have a customer that was already in the business of making parts for medical equipment. So, my client was able to swiftly channel their business into this avenue that was previously less significant for them.
Reconfigure, rethink, and respond to the marketplace.
"New Normal" has become the buzzword of the year it seems. But it describes so well what we are all adapting to, so it continues to be relevant. Life and business are not returning to how they were pre-pandemic. We see this already happening with companies doing away with brick & mortar offices in favour of remote teamwork, with restaurants and gyms installing new personal hygiene equipment and safety policies that are likely to stay. People and businesses have found a way to (and will continue to) adapt their mindset and their activities to fit into this new normal. Six months ago many business owners would never have thought their business would be able to run with remote staff, with different product and service offerings, without their regular consumer base, etc. But the bottom line is that those businesses who are willing and able to reconfigure, rethink, and respond to the marketplace are the businesses that are going to survive.
Surviving and Thriving In Uncertain Times: 9 Keys to Success
While not all businesses will survive the next few months, the ones that do will go on to thrive on the other side – many great businesses were born in times of recession! I want to expand upon the points I've made above and help make sure that yours is one of them.
With that, I invite you to join me on June 16th at 11 am Pacific for a free live webinar where I will deliver a content-filled presentation to help you learn:
The 9 keys to building a business where you feel confident and in control, able to make the right decisions and navigate under pressure

The 5 stages every business goes through (and how this crisis may have moved you either backward or forward) so that you can concentrate on the right activities for your state of business

Clarity about where you are strong and where you need to develop so that you can position your business to capitalize on opportunities and ensure that you make a profit AND have time off (even in rough times like right now)
I encourage you to invest this one hour of your time into attending this live webinar so that you can be better equipped to guide your business through this time of uncertainty and rapid change.
Free E-Book: Five Steps to Freedom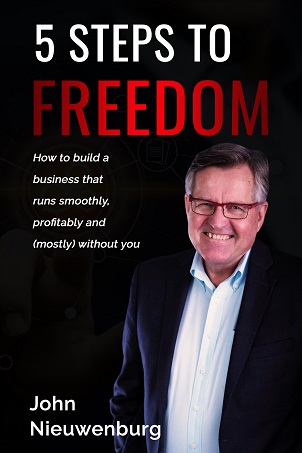 How to build a business that runs smoothly,

profitably

, and (mostly) without you
Feeling stressed out and overwhelmed with a business that is taking all your time - and not giving you enough in return?
Are you finding it challenging to hire the right team (and get them to do the right things)?
I wrote this little guide for you!
Enter your details below to receive your free copy!