Why (almost) every business owner needs a coach
Seth Godin recently wrote a terrific article about the "coaching paradox" where he observes that the things that hold us back from coaching are the reasons we need a coach in the first place!
As he puts it:
At the top tier of just about any sort of endeavor, you'll find that the performers have coaches.
Pianists, orators and athletes all have coaches. In fact, it would be weird if we heard of someone on stage or on the field who didn't have one.
And yet, in the world of business, they're seen as the exception.
Read entire article here: https://seths.blog/2021/07/a-coaching-paradox/
Here are some solid reasons why every business owner (who wants to succeed) needs a business coach.
Business coaching provides accountability
I often show this image of a recruit doing pushups.
A coach can't do the pushups for you, but with a coach, you'll do more pushups – and you'll do them better.
The business equivalent of "pushups" are things like these:
Practicing leadership skills
Holding regular meetings with your team
Delegating tasks
Developing systems
Developing and executing a marketing plan
Making sales calls
Setting and tracking KPIs
Taking time to reflect, plan and develop strategy
(Is there anything on that list that YOU put off?)
Business coaching helps you gain clarity and perspective
We can't see the whole picture when we're trapped inside the frame. A good coach provides an unbiased, impersonal view from the outside.
Your coach can help you identify your strengths and weaknesses, set priorities and spot opportunities.
Not by telling you what to do, but by asking questions and skillfully prompting you to think critically about the situations you are facing.
Through doing this, you'll develop the ability to see these things for yourself.
This is why I often describe what I do as "teaching someone to fish rather than giving them the fish."
My goal as a coach isn't to create dependence on ME, it's to help YOU become a better business owner.
Your business coach can act as a sounding board
I once asked a client what he valued most from coaching.
His response?
"It's great to have a friend."
That wasn't the answer I was expecting, and to be honest, I felt a bit of self-doubt for a moment or two. "A friend? Is that all I'm offering?"
As I reflected, I realized that this kind of "business friendship" is a really big deal.
Running your own business can be lonely and isolating.
Your life partner doesn't really understand and probably isn't all that interested in hearing your "shop talk."
You can't discuss challenges and problems with your staff, suppliers or competitors.
Your personal friends may be willing to listen, but they lack business experience and wisdom to provide any useful advice or insight.
Coaching provides an opportunity for you to unload the challenges you're experiencing – to be honest about your feelings, fears and frustrations. And to get helpful, supportive advice and perspective in return.
It also gives you a place to explore and discuss new ideas before proceeding.
Your coach is also there to remind you of your strengths, capabilities and potential.
A great business coach is your harshest critic and your greatest champion at the same time.
Your business coach can provide knowledge and expert insights
The unifying characteristic of business owners who never reach the point where their business is running smoothly, profitably and (mostly) without them is a lack of business education.
As one of my clients put it:
"There is no business education in Grad School for psychology or medicine. You learn your trade and you come out of that well prepared to practice in your field, but with zero knowledge about the business world."
If you want to build a business that supports your life (instead of the other way around) – you need to understand the fundamentals of how to run a business. These include:
Understanding your finances and cash flow
Learning leadership, management, and delegation skills
Becoming better at planning, priority setting, personal productivity, and the ability to self-manage
Thinking in terms of systems and processes instead of people
Becoming skilled at sales and marketing
(Is there anything on that list that you feel a bit "fuzzy" about?)
This is why it's important to choose a business coach with the experience and background to be a trusted advisor.
Business coaching isn't right for everyone
Business coaching isn't a magic pill that works without you.
If you want a better business, you need to become a better owner.
This means learning and growth and change.
You need to show up with motivation and a willingness to do the work.
You need to be willing to be pushed, to be asked tough questions, to think critically, to look internally and to make changes.
It's not necessarily easy, but it's worth it.
Ask any of my clients: Testimonials for W5 Coaching
If you'd like to discuss how coaching can help you reach your goals, book a complimentary 15-minute call with me here: Book 15 minutes with John
Free E-Book: Five Steps to Freedom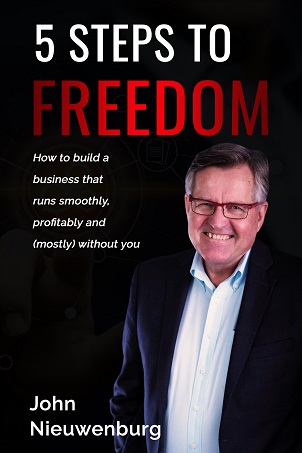 How to build a business that runs smoothly,

profitably

, and (mostly) without you
Feeling stressed out and overwhelmed with a business that is taking all your time - and not giving you enough in return?
Are you finding it challenging to hire the right team (and get them to do the right things)?
I wrote this little guide for you!
Enter your details below to receive your free copy!