Are you getting the financial info you need?
Think about this: would you drive a car without a dashboard?
Without a gas gauge?
Without a speedometer?
No, you wouldn't.
Yet if you're like many of the business owners I work with, you probably lack a proper financial dashboard.
And you don't have anyone who can clearly, concisely, and accurately help you understand what that dashboard is telling you!
Part of the problem is that small businesses are poorly served by the accounting profession.
I don't want to discredit or discount accountants.
Accountants play an important role in helping small businesses with bookkeeping, taxes, and producing financial reports.
However…
The accounting profession is not built to deliver everything that a small business owner needs in order to succeed.
They aren't there to give you advice, they are there to give you the numbers as they see them.
Large companies, on the other hand, have CFOs and comptrollers who have years of education and experience in analyzing financial data.
They are able to translate that data into actionable insights.
These people work within the senior management team to ensure that the business has the financial information and understanding it needs to make good business decisions.
With small businesses, the owner often lacks formal business and financial education.
So they hire an accounting firm to keep the books, file their taxes, and provide reports.
They quickly become accustomed to thinking that the reports they get from their accountant are all they need.
This belief has put many of my past clients in over their heads and losing money, fast.
If you're operating under the assumption that your accountant's financial reports are straightforwardly telling you everything you need to know about your financial situation – you are essentially operating blind.
Do you need a fractional CFO? (Chief Financial Officer)
Small business owners can close the gap between what accounting firms (or do-it-yourself solutions such as QuickBooks) provide them and what they really need by engaging a fractional CFO.
Once you reach around $1 million to $2 million per year in revenue, a fractional CFO level advisor is a must-have.
These advisors are able to see the accountant's reports from a business perspective, instead of just a numbers perspective.
They have the knowledge and experience to interpret your financial information and give you the advice you need to make sound decisions and move your business forward.
As your business grows and matures, it's important to add the right people at the right time.
Are you ready for a fractional CFO?
This is a good question to ask your business coach!
If you'd like some help answering that question – or any other question you have about business – I invite you to book a complimentary 15-minute consultation call with me.
Free E-Book: Five Steps to Freedom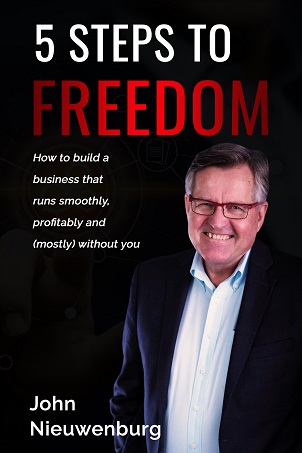 How to build a business that runs smoothly,

profitably

, and (mostly) without you
Feeling stressed out and overwhelmed with a business that is taking all your time - and not giving you enough in return?
Are you finding it challenging to hire the right team (and get them to do the right things)?
I wrote this little guide for you!
Enter your details below to receive your free copy!