How I create a great zoom experience for my clients
In March of 2020, it became clear that we were all going to spend a lot of time on Zoom.
As such, I wanted to improve the zoom experience for my clients and make it the best that it could be.
Many of my clients have asked me questions about what equipment I have and how I set it up.
In a recent feature on GetRevue, I share:
Exactly what I have for equipment and how much it cost
How I set it up (and why I do it that way)
How I solved for the "camera eye contact problem"
You can read the full article here: John's zoom set up
Free E-Book: Five Steps to Freedom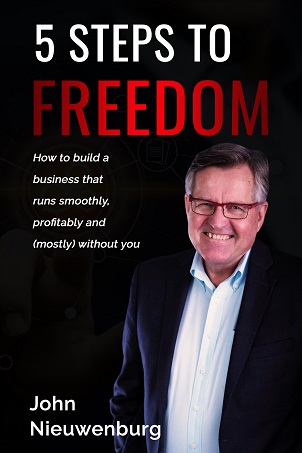 How to build a business that runs smoothly,

profitably

, and (mostly) without you
Feeling stressed out and overwhelmed with a business that is taking all your time - and not giving you enough in return?
Are you finding it challenging to hire the right team (and get them to do the right things)?
I wrote this little guide for you!
Enter your details below to receive your free copy!