How to Create Operational Redundancy without Doubling Your Staff
What happens to a sports team when its all-star player gets injured?
Is there someone on the bench who can step up and perform, or does the team just play without anyone in their position?
Sports teams know something that small business owners should know as well: having redundancy is critical.
Just ask Tim.
Without redundancy, you're vulnerable when your best team members get sick or need to be out for other reasons.
This is especially true for small businesses – they'll feel the impact of a missing team member a lot faster than a larger organization.
And that impact will hurt a lot more.
So, let's look at how small businesses can add operational redundancy.
What is operational redundancy?
Operational redundancy simply means that you have more than one person within your business who can perform a particular role or process.
Nearly every owner I've worked with has been in the situation of scrambling to find someone to step in when a key team member is unexpectedly unable to carry out their job.
When you have operational redundancy, there's a fully trained person ready to step in.
This keeps your business running on track until the original team member is back in place.
If you're doing it right, your customers will never know there was a disruption, because they'll still receive the same consistent product or service.
Think of operational redundancy like having a reserve parachute. It allows you to avoid a single point of failure.
Three key steps to achieving healthy operational redundancy

Getting to operational redundancy isn't complicated, but it does take commitment, consistency, and intention.
Here are the key steps.
1. Establish Standard Operating Procedures
If all the knowledge related to an operating process lives inside one employee's head, then you're in trouble.
Standard operating procedures should be carefully documented so that in the event of an emergency, someone else on the team can step in to make sure the process is followed consistently and reflects your company's standards.
And just as important: make sure everyone on your team has access to the SOPs.
Make these resources available in a standard, centralized location that everyone is familiar with and can easily access.
That way, you avoid the frustration of not being able to access key documents just because a team member is sick or on vacation.
2. Cross-train, cross-train, cross-train
It's always dangerous to have only one person who knows how to do "the thing."
Make sure that members of your team can step in and take over duties for someone else if the situation demands it.
That means making sure your people are getting trained and up-to-speed on how to help one another.
Everyone in your business should know how to do at least part of someone else's job.
3. Consider part-time employees
As a small business owner, it's easy to believe you can't have redundancy because you don't have the money to hire two people for the same job.
Splitting the role into part-time positions helps address some of those concerns.
Divide job duties among multiple part-time employees instead of assigning everything to one team member.
With this model, there's at least one other person trained to do the same work who can potentially step in if needed.
This guarantees an automatic backup in the case of an emergency and makes it easier for team members to take time off.
Remember: the person with the most options has the power.
If you have one employee who holds all the secrets to doing their job, they hold the power.
They have more options than you do because you're dependent on them – if they quit, you're sunk.
But – if you've built redundancy into your team model, you are the one with the options.
Even if a key employee moves on to another opportunity, you have others who can do the work to meet your customers' needs in the consistent manner they expect.
Redundancy is a key strategy for protecting your business and ensuring its success over time.
---
Would you like some help setting up your business to run smoothly, profitably, and mostly without you? Book a 15-minute call to discuss business coaching: Book a Call with John
Free E-Book: Five Steps to Freedom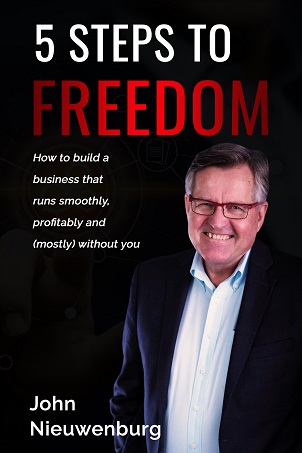 How to build a business that runs smoothly,

profitably

, and (mostly) without you
Feeling stressed out and overwhelmed with a business that is taking all your time - and not giving you enough in return?
Are you finding it challenging to hire the right team (and get them to do the right things)?
I wrote this little guide for you!
Enter your details below to receive your free copy!