Drive to Success: How "Windshield University" Can Help Business Owners Reach Their Goals
At W5 we say that if the owner wants a better business, first the business needs a better owner.
The most successful business owners are those that invest time and energy in their personal and professional development.
One of the easiest ways to increase your knowledge is through reading.
In fact, one of the first things my clients get from me when we begin to work together is a list of recommended reading.
Leaders are readers!
And yet, most people – especially business owners – are time-starved and busy, so carving out several hours to read a book is a big ask.
This is a situation that calls for a different way of thinking.
How do you make the time for learning when you have no time? Attend Windshield University!
I believe it was Zig Ziglar who first coined this term to describe listening to educational audio tapes (remember those?) while commuting to your job.
Listening to audiobooks while doing something else is an easy way to fit learning in without changing your schedule.
Don't have a commute? You can listen while:
Exercising: Listening to audiobooks can provide a good distraction during a workout or a run.
Doing Chores: Audiobooks can make chores like cleaning or cooking more enjoyable.
Relaxing: Listening to audiobooks can be a great way to relax and unwind after a long day.
Travelling: Audiobooks can be a great way to pass the time on a plane or in the airport.
Waiting: If you have to wait in line, wait for someone, or have a few spare minutes, you can use that time to listen to an audiobook.
Multitasking: You can listen to an audiobook while doing something that doesn't require your full attention, such as folding laundry or gardening.
Getting ready for bed or waking up: If you have trouble sleeping or like to get a head start on your day, audiobooks can be a good option for early mornings or late nights.
When you attend Windshield University, you can expect
Improved concentration: Listening to audiobooks can help improve your focus and concentration, especially if you are listening to engaging and thought-provoking content.
Better memory retention: Audiobooks can help reinforce learning and improve memory retention, especially if you listen to them multiple times or take notes while listening.
Increased creativity: Personal and professional development audiobooks can help stimulate your mind and increase creativity by exposing you to new ideas and ways of thinking.
Improved well-being: Listening to audiobooks that focus on personal development can help improve your overall well-being by providing tools and techniques to manage stress, build self-confidence, and improve relationships.
Increased motivation: Personal and professional development audiobooks can provide inspiration and motivation to help you reach your goals.
John's recommended reading listening
Over the years, I've read well over 500 books on the topics of business, entrepreneurship, personal growth, and leadership.
My top 7 "best of the best" classic recommendations are here: 7 books to take your business to the next level
Here are my most recent favourites:
Atomic Habits: An Easy & Proven Way to Build Good Habits & Break Bad Ones by James Clear
The best way to implement change – in your business and in your personal life – is by developing better habits. In Atomic Habits, James Clear shows how small, consistent changes in behavior can lead to significant improvements in one's life. He also  outlines a system for developing habits that stick.
The Invisible Promise: A Field Guide to Marketing in an Upside-Down World by Harry Beckwith
This one is a must read if you offer consulting or advisory services. How to build digital and nondigital messages that enhance your reputation for integrity; that stand out from the clutter; and that can produce exponential growth while saving you both time and money.
Quiet: The Power of Introverts in a World That Can't Stop Talking by Susan Cain
Susan Cain highlights the strengths and unique qualities of introverts. If you (or some of your team members) are on the quiet side, this is a must-read.
Sales Differentiation: 19 Powerful Strategies to Win More Deals at the Prices You Want by Lee B Salz
Selling in a competitive market where dropping your price seems like the only way to compete? This one's for you.
Pitch Anything: An Innovative Method for Presenting, Persuading, and Winning the Deal by Oren Klaff
According to Klaff, creating and presenting a great pitch isn't an art—it's a simple science. In this book he breaks down his methodology for remaining in complete control of every stage of the pitch process.
Rocket Fuel: The One Essential Combination That Will Get You More of What You Want from Your Business by Gino Wickman
Are you a visionary or an integrator? Learn which one you are – and which one you need to team up with to achieve greater success.
Accelerate your learning with help from a business coach
"If more information was the answer, then we'd all be billionaires with perfect abs." ~ Derek Sivers
Information is easy to access.
Listening to audiobooks makes it easy to consume and easy to fit into your day – regardless of how busy you are.
The challenging part is figuring out how to apply this new information to your business and how to stay accountable to making the changes.
That's where a business coach can help.
If you'd like to get faster results, let's talk about coaching. You can book 15 minutes on my calendar here: book time with John
Free E-Book: Five Steps to Freedom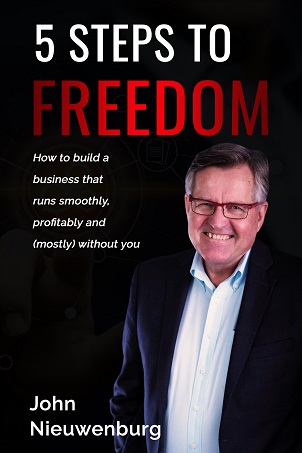 How to build a business that runs smoothly,

profitably

, and (mostly) without you
Feeling stressed out and overwhelmed with a business that is taking all your time - and not giving you enough in return?
Are you finding it challenging to hire the right team (and get them to do the right things)?
I wrote this little guide for you!
Enter your details below to receive your free copy!