Frequently Asked Questions about Business Coaching
If you've ever thought about working with a business coach, I bet you have questions.
So it's a good thing I have answers. 😉
I've gathered up some of the questions I hear most often and provided answers below.
If I missed your question or you'd like me to answer you in person, feel free to book 15 minutes on my calendar: Book a Call with John
Why should I hire a business coach?

There are MANY reasons why hiring a business coach could be a good idea. Here are a few common ones:
You're looking for perspective.
It's hard to see the whole picture when you're inside the frame.
Working with a business coach gives you perspective. Someone from outside of your company, but also with considerable business experience, can help you see blind spots, recognize opportunities and keep you on the path to business success.
A good coach will ask thoughtful questions that can help you identify your own knowledge gaps, and they can also help you pressure-test solutions to current business challenges.
You have limitations you'd like to break through.
Working with a business coach can help you break through your own limitations – which are often self-imposed.
For example, many of my clients initially struggle with things like delegation or sales.
Getting outside advice on these issues can help you move outside your comfort zone and take your business to the next level.
You want to grow personally and professionally.
If an owner wants a better business, first the business needs a better owner.
My best clients are committed to personal growth and learning.
As an entrepreneur and leader of your business, you should always look for opportunities to continue professionally growing and developing.
Working with a business coach is an effective way to push yourself beyond what you know – and what you think you can achieve.
You feel stuck and you "don't know what you don't know"
If you're like most of the clients I work with, you have a lot of education, knowledge, and experience with your trade or profession.
You're great at delivering the services your company offers. You're an excellent accountant or electrician or consultant.
But you probably don't have a lot of formal training in business.
The results of this are predictable: you grow to a certain level, then you get stuck – usually in the hub and spoke trap.
The fastest way out of this trap is to get some business training…quickly!
Working with a coach is a great way to shortcut the process because you learn exactly what you need to learn when you need to learn it.
How much does it cost to work with a business coach?
Ultimately, working with a business coach shouldn't "cost" you anything.
Business coaching is an investment that usually begins to pay off immediately and will continue paying off over the life of your business.
A better question to consider might be "What value do you expect to get from business coaching? What would make the fees worthwhile to you?"
For some owners, value will come from increasing revenue and profitability. For others, it might be about gaining time freedom or reducing stress.
At W5 Coaching, we believe that the purpose of your business is to give you, the owner, the life you want.
What would you be prepared to invest to get that result?
Many clients find that working with a business coach offers a high return on investment.
How do I choose the right coach for me?
Put some advance thought into what you're looking for before you start trying to find a business coach.
Otherwise, it's easy to settle for the first coach you find, without making sure they're the best fit for you and your business.
First, think about your goals. What exactly is it you want a coach to help you with? Solving a pressing business challenge? Expanding into new markets? Opening another business location? Something else?
The clearer you are about what you really want, the easier it will be to find the coach that's right for you.
You should interview potential coaches to ask about their experience, the types of clients they've worked with, and the kinds of results they've been able to help their clients achieve. Ask for references you can speak to about their experience.
Finding the right coach has a lot to do with chemistry and comfort – when you find the coach that you have a good rapport with, that's probably your person.
What can I expect from a business coach?
First of all, you can expect a lot of questions.
Any business coach worth their salt will listen more than talk – and they'll ask a lot of questions that can help you reason through your options and choose the right path for you and your business.
You should also expect a good business coach to empathize with you as you face business challenges – they've likely faced similar challenges of their own.
In addition, you should expect your business coach to be understanding and to be 100 percent in your corner.
Here's what a good business coach won't do: tell you what to do or give you easy answers to thorny business problems.
Being an entrepreneur and leading a business can be lonely – and sometimes isolating.
Working with someone who has extensive business experience can help you get clarity on what you – and your business – are actually capable of.
A good coach will highlight blind spots, push you to be your best, and help you identify solutions to your greatest business challenges.
Want to learn more about how business coaching can help you? Set up a fast track call today: book a call with John
Free E-Book: Five Steps to Freedom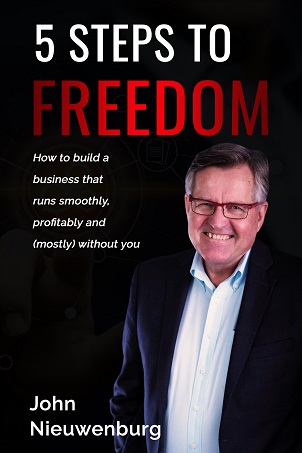 How to build a business that runs smoothly,

profitably

, and (mostly) without you
Feeling stressed out and overwhelmed with a business that is taking all your time - and not giving you enough in return?
Are you finding it challenging to hire the right team (and get them to do the right things)?
I wrote this little guide for you!
Enter your details below to receive your free copy!