My favourite time of year is between Christmas and New Year's Eve.
There is usually a period of about 3 – 4 days where time slows down. Everything idles. The rush of family, festivities, and food is over. Now, for a couple of laid back days, I get to hit the "pause" button and just relax.
One of my absolute favourite things to do during this break is…plan!
I'll pull out my papers and pens, make a list of three or so rough brainstormed plans, and then see which feels like a good fit.
Sometimes people ask me, "Why bother? Don't you already know what you're doing by now?"
Well, because sticking to a plan is essential for success.
It's what differentiates the old, passive you from saying, "Hey, I want to do this really cool thing" and the new, focused you who instead declares, "I'm not satisfied with being naively hopeful about hitting these targets next year. I am going to lay out a tangible, time specific, bullet point style plan of exactly how to get there."
Without a doubt, sticking to a plan is a core reason for my success.
If I can use this strategy effectively for 15 years (and still see results) so can you.
What is a feedback loop? Why you need one
I believe a key piece of the puzzle when it comes to sticking to a plan is implementing behaviours via a feedback loop.
Unfamiliar with the term?
Psychology Wiki defines it as "a system where outputs are fed back into the system as inputs, increasing or decreasing effects."
For example, think about losing weight. Imagine two people. One person decides to eat less fast food, make healthier choices, and exercise regularly. In fact, they are so committed to shedding the pounds, they invest in a fitness app that records calories, quantity/type of food, heart rate, etc.
A few months later, the two friends reconvene to see who successfully lost weight. Perhaps unsurprisingly, the individual who got better results was the person who had the feedback loop – keeping track of their behaviours and habits.
As we can see, a tool such as this has a built-in feedback mechanism. Business owners can do the same.
Feedback is part of what makes planning work because there is an accountability factor based on habits and routine
This can also look like:
Mapping out goals
Setting growth/sales targets
Rewarding progress
Finding an accountability partner
Hiring a business coach
Get real about your goals. If you struggle to stick to a plan, it could be because you are missing critical feedback. Once you identify where the information is lacking, it will become easier to implement a feedback loop that benefits your business.
Be clear about what you want in life. This will shape your plan and by extension, your business too
To further drive the concept home, here is another personal story to show the value of setting a plan and sticking to it.
Many moons ago, I was a smoker.
One day I decided that I didn't want to be anymore. Therefore, I told myself that I would quit. I allocated six weeks to truly commit to making this change. When the deadline rolled around, I was able to overcome the challenges of withdrawal. A proud accomplishment, considering only 8% of smokers successfully quit in their first 6-12 months of trying.
How?
By being crystal clear about what I wanted from life
By setting a deadline
By sticking to the plan
You can do the same!
This year, use one of your New Year's resolutions to stick to a plan. If you would like assistance deciding what that plan will look like, reach out for a no-obligations 15-minute consultation call
Free E-Book: Five Steps to Freedom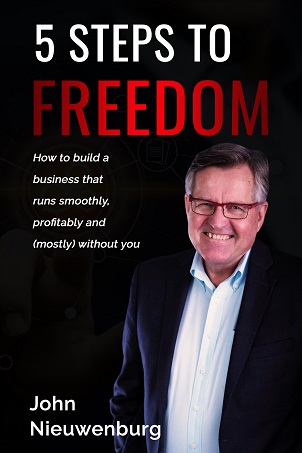 How to build a business that runs smoothly,

profitably

, and (mostly) without you
Feeling stressed out and overwhelmed with a business that is taking all your time - and not giving you enough in return?
Are you finding it challenging to hire the right team (and get them to do the right things)?
I wrote this little guide for you!
Enter your details below to receive your free copy!