What can you expect when you work with a Business Coach?
If you've never worked with a business coach before, you might be wondering exactly what's involved.
In this article, I will answer the most common questions I get asked about coaching.
What is business coaching?
There are almost as many different ways of delivering business coaching as there are business coaches.
Some offer personal support and feedback, others combine a coaching approach with practical and structured business planning, many bring a disciplined accountability to the relationship.
Some coaches use a style in which they ask questions and offer opportunities that will challenge the client to find answers from within themselves.
This "Socratic method" facilitates the learner to discover answers and new ways of being based on their values, preferences and unique perspective.
My coaching style combines all of the above and also includes business education and advice from my own business experience.
What will we do during coaching?
Here are the 3 types of coaching you can expect when we work together.
1. Business Growth: Getting things done using proven tools, strategies and techniques.
The most common challenges faced by business owners are in the areas of time, team and money.
We will work together to help you execute strategies to:
2. Personal Growth: Becoming a better business owner.
At W5, we say that if the owner wants to have a better business first the business needs a better owner!
Becoming a better owner means:
3. Performance: Doing the things you committed to doing.
While a coach can't do your push-ups for you, the coach can help you to do more and better quality push ups!
Improving your performance comes from:
What will we work on first?
Very early in my coaching practice, I learned a valuable lesson.
I was working with my client in the way that I was taught, by beginning with developing a strategic business plan.
My client wasn't making very good progress. They weren't completing their homework. When I asked why, they responded with this:
"I'm sorry, John. I've been distracted lately. I know this plan is really important, but right now I'm worried because I don't think I can make payroll next week."
We (of course!) immediately shifted our focus to the more urgent problem, doing what needed to be done to ensure that payroll got met.
What I discovered with that client – and what has been confirmed by the nearly 300 clients who followed them – is that clients always have burning issues to resolve.
These burning issues need to be dealt with first, before moving on to more strategic matters.
Since then, I've adopted a 3 phase approach to working with clients.
1. Put out the fires.
We begin by addressing the most urgent and pressing things.
This frees up both your time and your mental energy.
Beware! At this point, you may feel so much relief from putting out the fires, that you think everything is fixed. In reality, the work has only just started and if you quit now, you'll be facing some new fires in short order!
2. Shift approach.
With the burning issues out of the way, we move towards 2 approach shifts:
From reactive to proactive. Instead of responding to burning issues, taking steps to avoid getting things on fire in the first place!
From random to strategic. Instead of trying to "do all the things all at once," stepping back to plan and prioritize.
These changes are partially mindset and partially behavioural. Coaching in this phase will be really valuable for keeping you on track and ensuring that the changes stick.
3. Take control.
Once you have a plan and take a proactive approach, you are in position to lead your business with a sense of control.
This is when the magic really begins to happen. Now you are working "ON" your business instead of "IN" it.
How long does it take before I see results?
This depends on a number of things, including:
How many burning fires you need to put out.
Your "coachability" – how willing you are to take advice and try new things.
The amount of time, energy, and effort you put in.
Most of my clients free up several hours a week and experience significant mental relief from putting out fires within the first few weeks of coaching.
From there, coaching often follows this "emotional rollercoaster:"
Clients begin with enthusiasm, energy, and excitement because they have taken a step towards solving their problems and building the business they really want.
Because they're already busy, the extra work from the coaching program might seem overwhelming at first.
After the initial results of having more time and less stress, the next changes feel slower.
Building new habits, shifting your mindset, and embracing new ideas can be hard work.
This often leads to what Seth Godin calls "the Dip": the work feels hard and results might not be immediately apparent.
This is where the support and encouragement of a coach makes all the difference.
After about 6 – 12 months of hard work, the roller coaster moves upwards again.
Things are easier. Growth is happening. You have more time, you're making more money, the business is starting to deliver the freedom and lifestyle you wanted when you started it.
When is a good time to start?
Clients often say to me:
"I wish I'd done this years ago."
Coaching isn't right for everyone. Here are some reasons why coaching might not work.
But if it's right for you, the best time to start is now.
If you'd like to see if I'm the right coach for you, I invite you to book 15 minutes to chat about it.
If it feels like it might be a fit, we'll set up a complimentary coaching session so that you can "try before you buy."
You can also learn more about my program here: coaching services.
Or check out what my clients have to say here: testimonials
Free E-Book: Five Steps to Freedom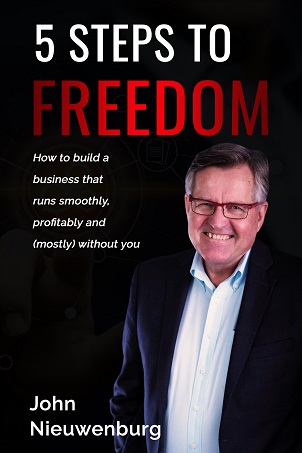 How to build a business that runs smoothly,

profitably

, and (mostly) without you
Feeling stressed out and overwhelmed with a business that is taking all your time - and not giving you enough in return?
Are you finding it challenging to hire the right team (and get them to do the right things)?
I wrote this little guide for you!
Enter your details below to receive your free copy!