Is getting a business coach your ticket to freedom?
My clients often tell me that they became business owners so that they can have the freedom to live the life they want.
NOT so that they can continue to work long hours keeping their business moving forward while their team punches out at 5 o'clock to enjoy happy hour, put in a round of golf, or go home to their families.
Unfortunately, many owners end up working for their business instead of having the business work for them.
If you think you should have more freedom to make decisions about when you work, how you work, and how much money you take home, then you might be ready to have a conversation with a business coach.
5 things you need to know about business coaching
The role of a business coach is to be a guide to help you get your business to a place where it is supporting your life. Here are some things you need to know about this guidance.
1. A business coach is not there to tell you what to do
They are not there to run your business.
When you hire a business coach you are hiring a guide: someone to be a sounding board for your problems, point you in the right direction, provide clarity, and keep you accountable.
A good business coach teaches you how to see the possibilities and opportunities that don't come to you naturally. They do this by asking questions and skillfully prompting you to think critically about situations.
2. A business coach does not 'give you a fish', but rather 'teaches you to fish for yourself'
A business coach should have the skills and knowledge necessary to guide you through the problems that you face in your own business and teach you how to handle future situations.
A high-quality business coach will do this in three dimensions:
Coaching the business – helping you build a better business with systems, tools, and strategies
Coaching the owner – helping you become a better owner by teaching you leadership, delegation, and communication skills
Providing accountability – ensuring that you do what you say you are going to do. While a coach can't "do the push-ups for you" the accountability they provide leads to you doing more and better push-ups than you would on your own!
3. A business coach will help you fill in the missing gaps in your business education
My clients are highly skilled in their chosen professions. They have passion, motivation, and a strong drive to succeed.
The part they are often missing is understanding the fundamentals of business. As one of my clients put it: "they don't teach business skills in grad school for therapists."
A business coach gives you that education and in doing so enables you to build a business that provides you with time freedom in addition to the financial rewards.
4. A great business coach will be your harshest critic and your greatest champion at the same time
Be prepared to bring motivation and a willingness to do the work.
And know that the work isn't tasked out to you by your business coach. (See "a business coach doesn't tell you what to do" ;-))
Instead, coaching is driven by conversations, questions, and thinking critically about your business.
If you aren't willing to be pushed, to be asked the tough questions, to look internally, and to make changes then you may not be ready for business coaching.
That also means that you aren't ready to bring your business to a place where you get to live the life you want. Because the same patterns that have you resist coaching are the exact patterns you need to shift in order to succeed.
5. Business coaching shouldn't cost, it should pay
One of the biggest objections people have to business coaching is the fees.
You should be looking at the fees you pay your business coach as an investment designed to deliver a specific return.
Consider your goals.
What does success look like to you?
What key indicators will tell you that business coaching has paid off?
These are important conversations to have with a prospective business coach so that the right program can be tailored to your budget and the needs of your company.
3 tips for finding the right business coach for YOU
Make sure they have a proven system
They don't need to be an expert in your field. What they do need to bring are systems, tools, and processes that work.
I believe so strongly in the tools and processes that I use that I offer a full guarantee on my coaching program.
Check their references
Read testimonials, call references, ask questions, and do your research.
I invite my prospective clients to contact any of the people on my testimonials page.
Meet to assess chemistry
Business coaching is a personal relationship. It's important that coach and client are the right fit.
This is why I meet with prospective clients TWICE before agreeing to coach them.
The first meeting is a quick call to see if I can help with their situation. The second meeting is a complimentary coaching session to see if my style of coaching is the right fit.
Would you like to chat with me about business coaching?
If you have questions about business coaching or are at all curious about whether coaching is right for you, I encourage you to book a free 15-minute conversation with me using my calendar link here: Book a call with John
Free E-Book: Five Steps to Freedom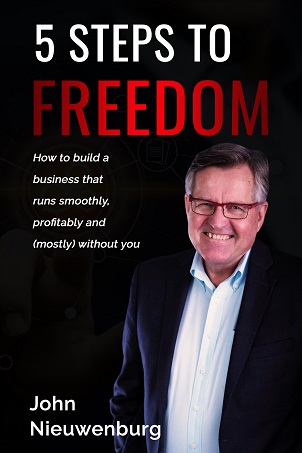 How to build a business that runs smoothly,

profitably

, and (mostly) without you
Feeling stressed out and overwhelmed with a business that is taking all your time - and not giving you enough in return?
Are you finding it challenging to hire the right team (and get them to do the right things)?
I wrote this little guide for you!
Enter your details below to receive your free copy!